Event Information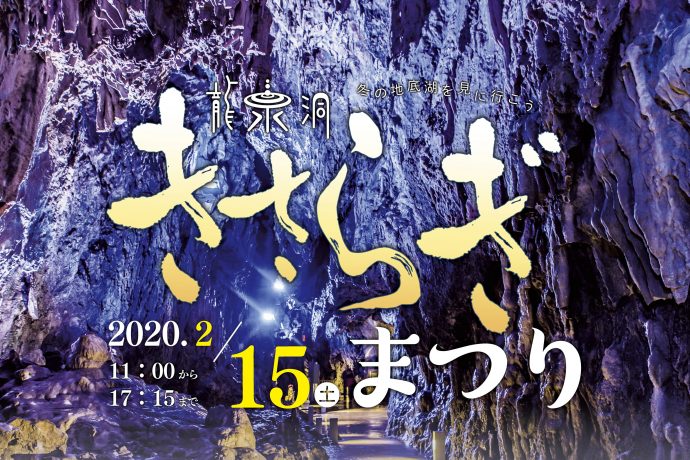 This event has ended.

Ryusendo Cave Kisaragimatsuri

We hold "Ryusendo Cave kisaragimatsuri" on Saturday, February 15.
Nine selections of stalactite caves mini-product exhibition, Lake bottom of the earth writing are full of events of limit other than holding on the same day in "Hoko Kuwashima – talk & reading live in Ryusendo Cave" on that day.
Kitchen car of warm pan and much-talked-about Iwaizumi black pig relief dumpling opens a store. Do you not come to winter Ryusendo Cave to play?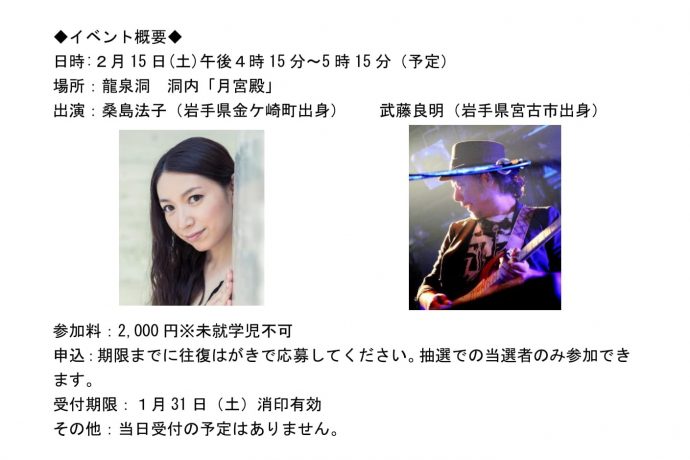 This event has ended.

Hoko Kuwashima – talk & reading live in Ryusendo Cave

We hold "Hoko Kuwashima – talk & reading live in Ryusendo Cave"
Yoshiaki Muto playing an active part as Hoko Kuwashima and guitarist of voice actor playing an active part widely, producer sound appears on the program narration, dubbing of overseas drama from heroine of popular animation.

The date and time: Saturday, February 15 from 4:15 p.m. to 5:15 p.m.
place: Ryusendo Cave "Imperial Palace"
appearance: Hoko Kuwashima (voice actor), Yoshiaki Muto (guitar)
participation fee: 2,000 yen ※Preschool child impossibility
Application method: We apply with double postal card. On the day there is no receptionist. For more details, please see flyer.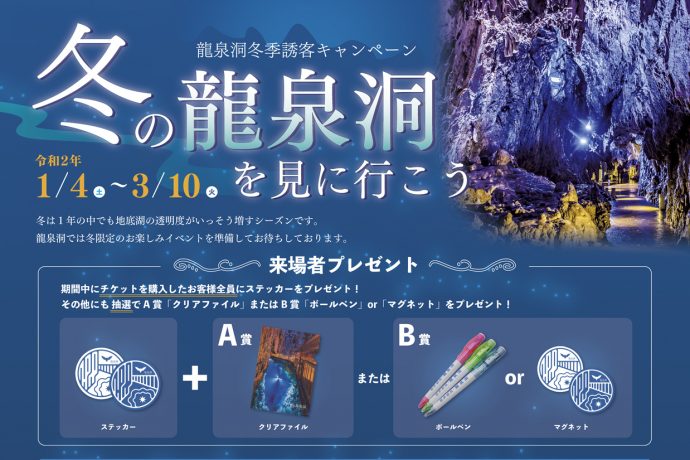 This event has ended.

(日本語) 龍泉洞冬季誘客キャンペーン

(日本語) 冬は1年の中でも地底湖の透明度がいっそう増すシーズンです。
龍泉洞では冬限定のお楽しみイベントを準備してお待ちしております。

期間中には来場者プレゼントもあります。
ステッカー【チケット購入者全員】+ A賞 クリアファイル または B賞 ボールペンorマグネット 【A賞 or B賞どちらか抽選】

キャンペーン期間中の各種イベントもどうぞご覧ください。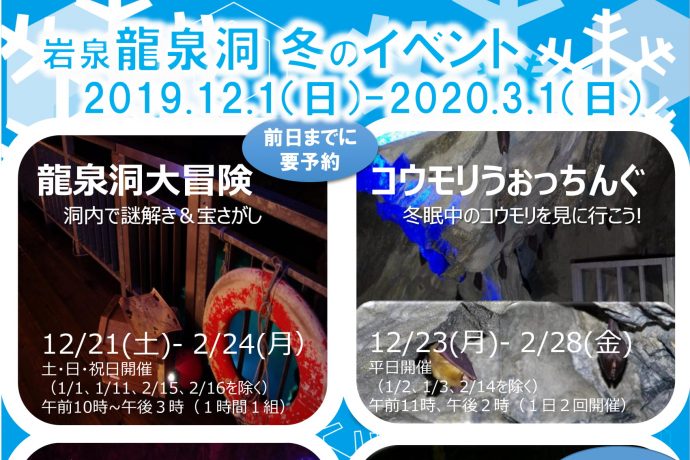 This event has ended.

2019-2020 winter season event

We hold event of Ryusendo Cave winter in 2019!

"Ryusendo Cave size adventure" is demystification & treasure hunt looking for key of intracavernous treasure chest which was hidden while exploring. Shall we go to find hibernating bat which we can look at only at winter time by "bat visit?" We do petit baving experience in night Ryusendo Cave in "night cave".

We perform "intracavernous illuminations" in Lake Ryusendo Cave first bottom of the earth. During period, we light up every day from 8:30 a.m. to 5:00 p.m. Please enjoy fantastic atmosphere.

Information of each others plan will tell even about Facebook and Twitter of Ryusendo Cave formula SNS at any time.

Come to winter Ryusendo Cave.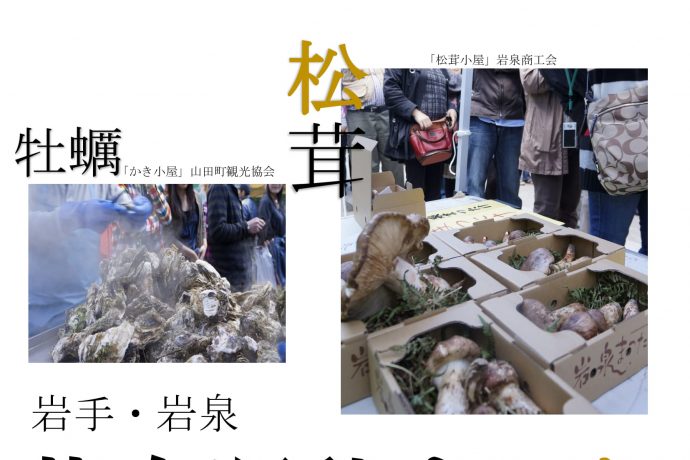 This event has ended.

2019Ryusendo Cave autumn festival

Ryusendo Cave autumn festival that planned holding on Sunday, October 13 was called off in consideration of influence of typhoon No.19 approach.

I am sorry to all of you who planned festival participation, everyone, who looked forward to.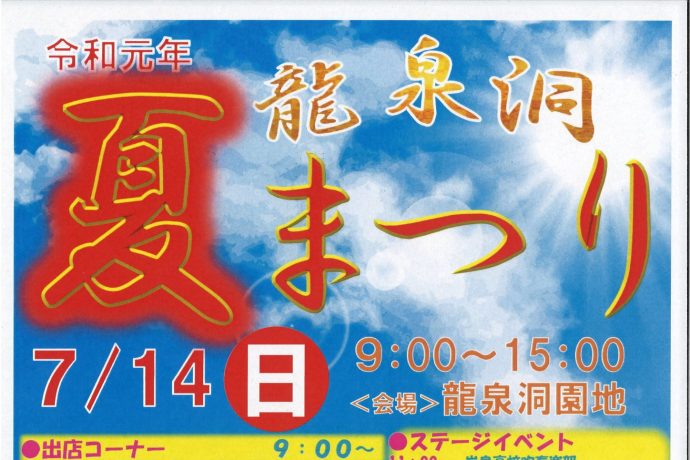 This event has ended.

2019Ryusendo Cave summer festival

We hold "Ryusendo Cave summer festival" this year. At quite popular roasted meat corner, we sell Iwaizumi short corner cow set (2,000 yen) and Ryusendo  black pig set (1,000 yen) each 100 sets of limitation every year. Nagano of comedian appears at stage event! In addition, walk behavior of Ichigoni, the sinus with expert from rice cake firewood, Rikuchu Coast fish and vegetables kingdom executive committee; "let's investigate mystery of Ryusendo Cave", and there is "tree climbing" to enjoy climbing a tree by instruction of guide. There are Tanohata-mura, branch from Fudai-mura in branch other than Iwaizumi-cho special product, too. Sunday of 3 consecutive holidays to Ryusendo Cave!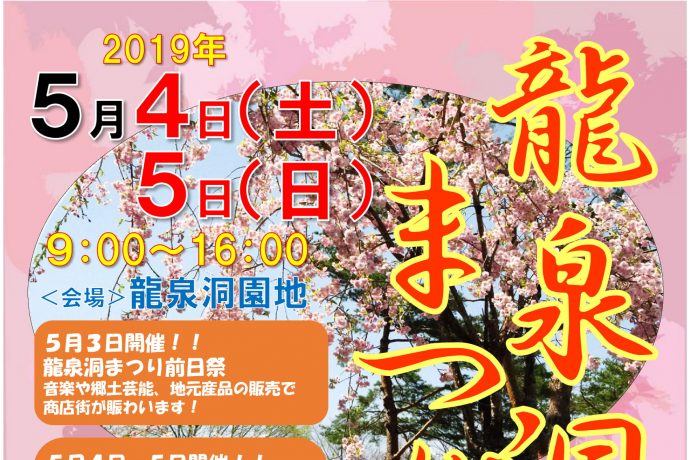 This event has ended.

2019Ryusendo Cave Festival!

It is held by Sunday "Ryusendo Cave Festival" for Saturday, May 4, five days!
Tokyo Tanaka and TOSHI-LOW of MAN WITH A MISSION of BRAHMAN appear on stage event as guest in particular this year!
You continue reconstruction aid from typhoon No.10 disaster that attacked Iwaizumi-cho in August, 2016 for long and may appear on both by the relationship this time.
With performance of two people, come to enjoy sightseeing in folk art of Iwaizumi-cho, local special product and food and Ryusendo Cave.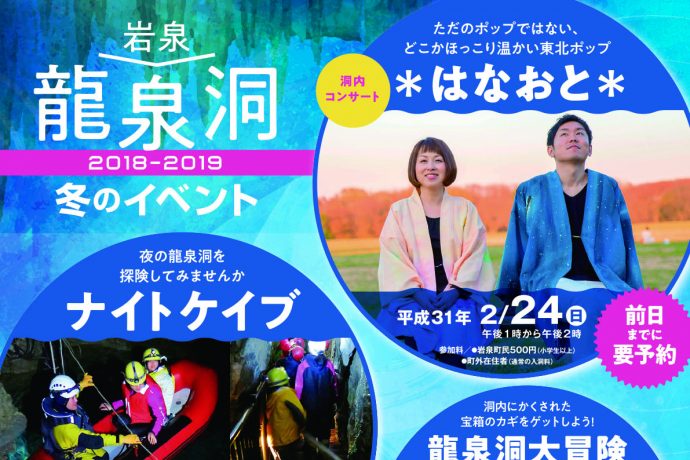 This event has ended.

Ryusendo Cave Winter Event 2018-2019

This year, Ryusendo Cave will hold various winter events as well! The popular "Ryusendo Cave Great Adventure" offers adult courses and children's courses. The Ryusendo concert which will be held in the Imperial Palace inside the cave, invites the artists called *Hana-oto* from Iwate prefecture.  Don`t you want to make some unforgettable memories for this winter vacation with the big event "Night Caving"? There are also other new events, such as illumination set up inside the cave. Please enjoy the Ryusendo Cave in this special time of the year.

Follow our English Facebook page to get the latest event update. https://www.facebook.com/Ryusendocave/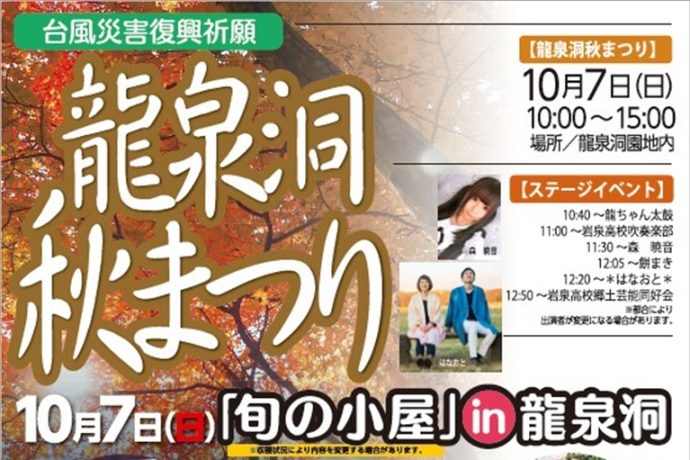 This event has ended.

Ryusendo Cave's Traditional Autumn Festival

The Ryusendo Cave's Traditional Autumn Festival, which was scheduled to be held on Sunday, October 7, was canceled considering the influence of Typhoon 25 approach.

Sincere apology to everyone who was planning to participate in the festival. However, the Ryusendo Cave is scheduled to open normally.
Regular Events at Ryusendo Cave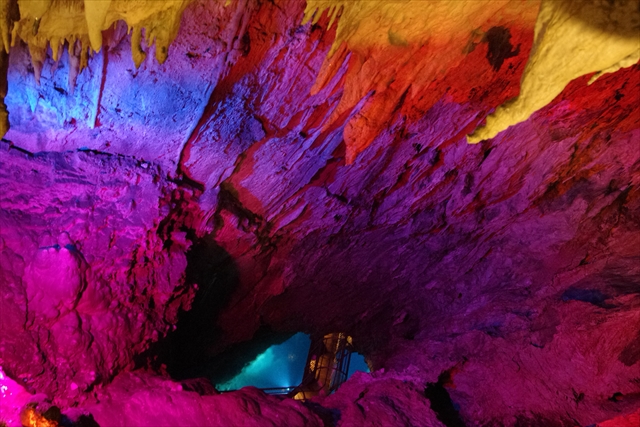 Illuminations Limited to the Winter Season
December 1 to December 31
※ It may be extended.
The area around Ryusendo's common area and also the cave itself decorate with eye-catching illuminations.
The First Underground Lake is illuminated to give the illusion of a romantic blue tunnel, and the Ryusendo Dragon Bridge also has illumination and it creates the most fantastic scenery.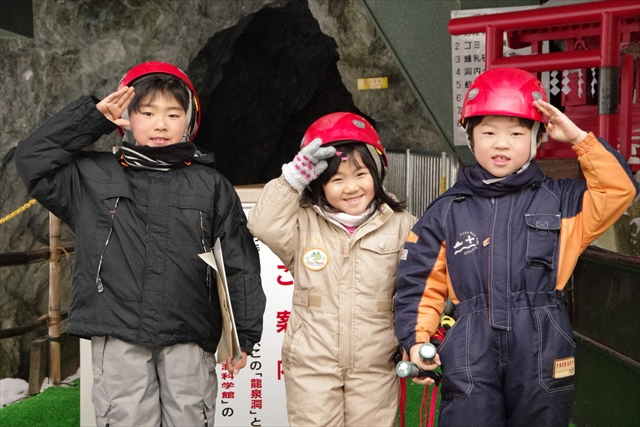 Ryusendo Cave Great Adventure
Mid-December to late March
※ It may be extended.
This adventure involves looking for the key to treasure hidden in Ryusendo Cave while also solving riddles.
Find the key, open the treasure box, and discover the wonderful treasure that is waiting for you!
You can bring in a secret gift and hide it. It`s an ideal birthday president for a child or an anniversary surprise for friends and couples.
Courses and riddles are different year by year, and there are courses such as "children's course", "adults' course", and "couple's course".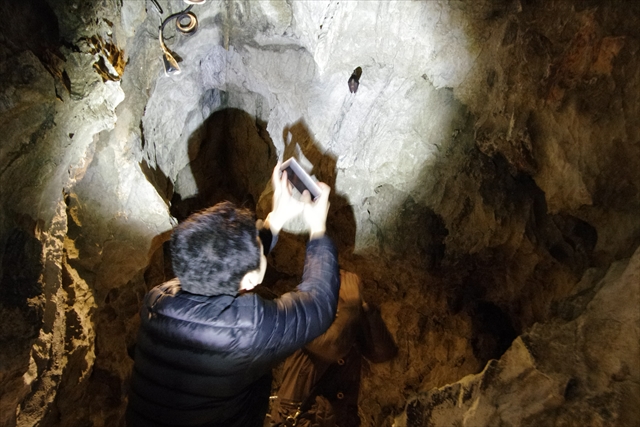 Bat Watching
Saturdays, Sundays, and public holidays from December 1 to March 31.
Session (1) from 11 am, and Session (2) from 2 pm
It can be hard to find hibernating bats, even though they may be hanging just close by.
During this hibernation period only, a special staff guide shows you the bat's secret whereabouts in the cave.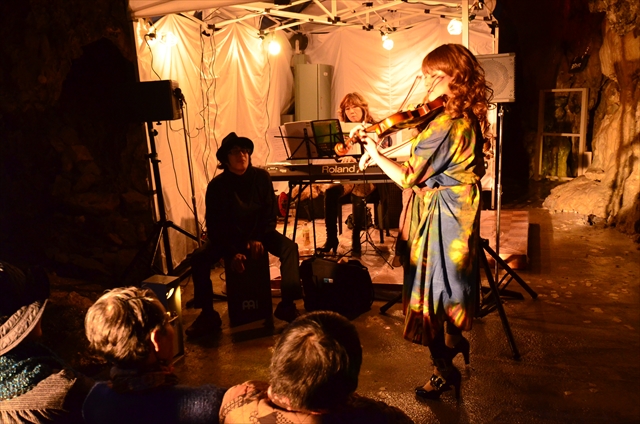 Cave Concert
One or two days
between mid-February to mid-March.
Taking full advantage of the cave's acoustic effects, various concerts have been performed.
Thus far, a wide variety of music genres have been staged, for example, flamenco, violin, ocarina, and even whistling. The cave's fantastic space – as well as its beautiful acoustics – greatly impressed both visitors and performers alike.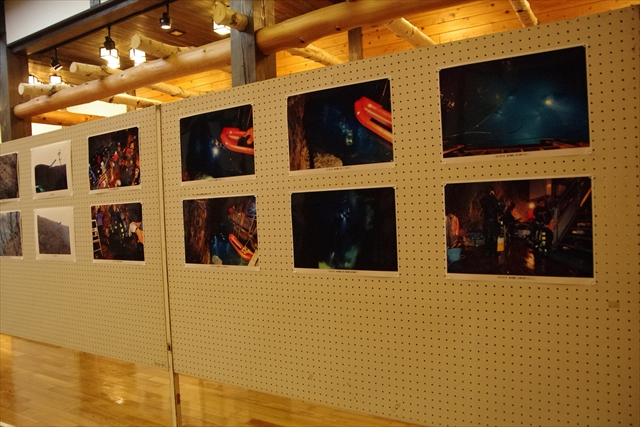 Photo Exhibition
February 1 to late March
Collecting photos of Ryusendo Cave under a new theme determined each year, we display rare and unusual images.
Previous exhibitions have shown photos of Ryusendo Cave in the old days, areas of the cave not accessible to the public, etc.
Each of these different annual themes help visitors to enjoy the hidden charms of Ryusendo Cave.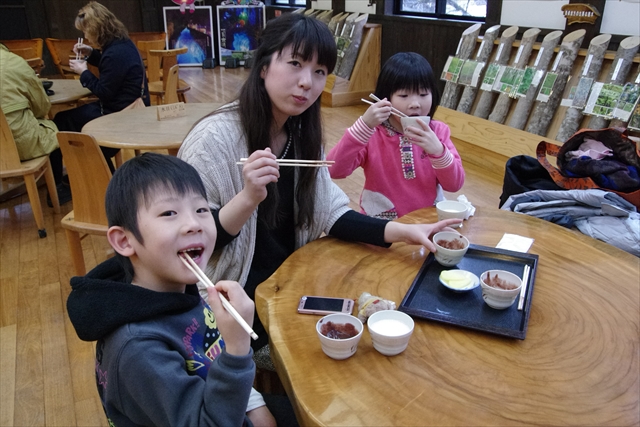 New Year Hospitality
January 1 to January 3
During the first three days of the New Year, we present a nice treat to visitors to Ryusendo Cave, and they are all free. Treats may be Happai-tofu (a bean-curd dish from the Edo period), sweet adzuki bean soup with cakes, hot milk and others.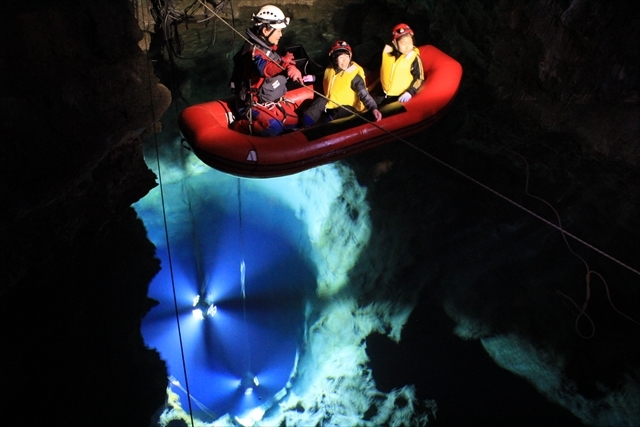 Ryusendo Cave Winter Events
Early December to late March
We hold a variety of events to draw in tourists in the winter season.
These events are designed with winter's features, and include collaborative projects involving other organizations and treasure hunting.
Sacred Place for Lovers
Among the nation's sightseeing sites, a romantic spot is specially favoured for marriage proposals is nominated as a "Lover`s Sanctuary". Ryusendo Cave and "Hakkoi-mizu (first love water) and Hyakkoi-mizu (100 love water)" that locates in the nearby Ureira Shopping Street are one of the Lover`s Sanctuary locations.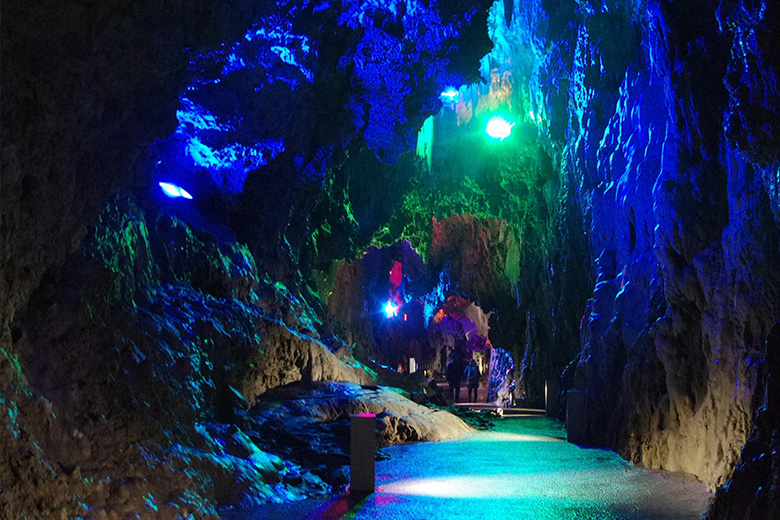 Heartspot
Enter the Gekkyuden (Imperial Palace) which is a special spot inside the cave. Be sure to turn your head around when you approach the "Mamori-jishi (Guardian Lion)". This area of the cave you have just passed through looks just like a heart slightly tilted to the left.
This hidden heart spot was made by hanging stalactites quite by chance.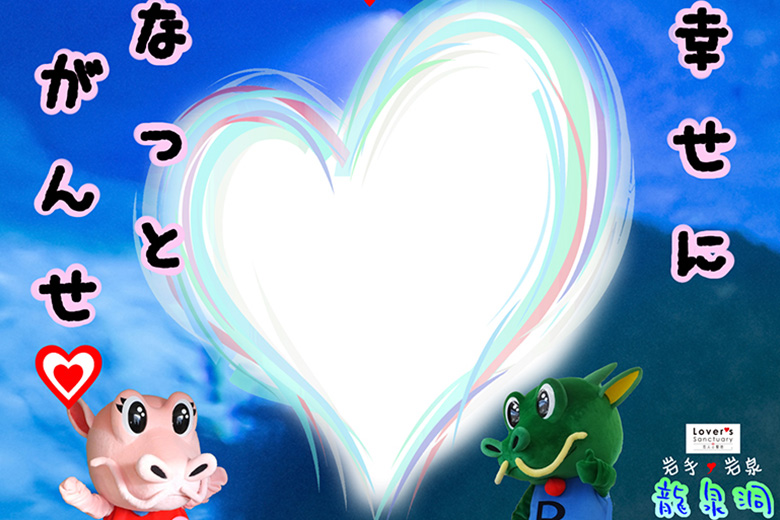 Stamp
In Iwaizumi, apart from Ryusendo Cave, the water place "Hakkoi-mizu (first love water) and Hyakkoi-mizu (100 love water)" in the nearby Ureira Shopping Street has also been designated as a "Lover`s Sanctuary".
Please press stamps on your special visitor's sheet at these two sites. Since these stamps have different patterns, you need to press them both to create a complete picture.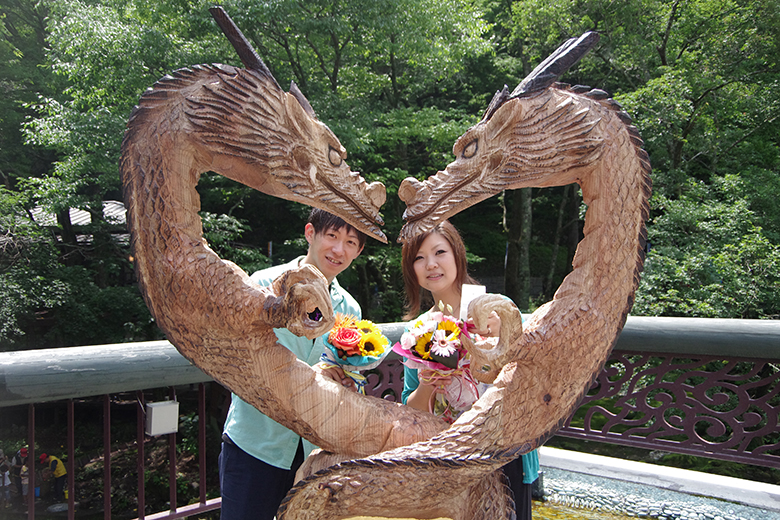 Nameplate monument
When officially authorized, a metal plaque is awarded to the Lover`s Sanctuary.
In the Ryusendo Cave, the plaque has been placed on the dragon wood carving created by one of Iwazumi's leading chainsaw artists.
The same plaque can also be seen at the water spot, "Hakkoi-mizu and Hyakkoi-mizu", of the Ureira Shopping Street. Here the plaque is placed in the water, surrounded with stones that shine at night.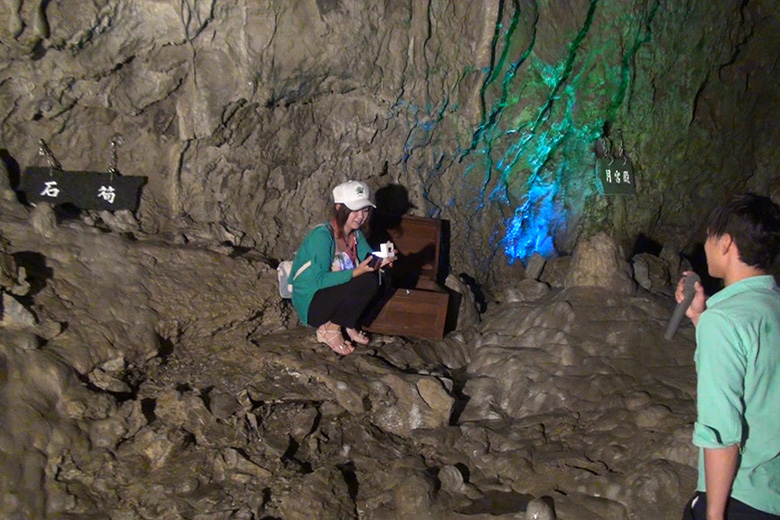 Other events
Activities of the Lover`s Sanctuary include couples joining in the Mochi-maki event at festival time, or participating in a chainsaw art demonstration in making a monument for the metal plaque. Also, there are gifts for couples who introduce others to the Ryusendo Cave.
Our Valentine events have seen a number of successful marriage proposals made at the special cave concert or at the surprise proposal opportunities.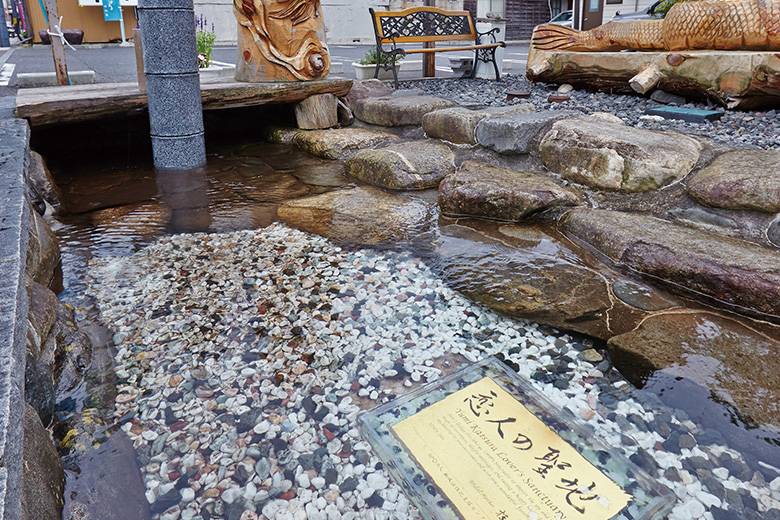 Hakkoi-mizu and Hyakkoi-mizu
In Iwaizumi, we say "Hakkoi (or Hiyakkoi)", meaning "it's cold!".
Iwazumi's famous spring waters are all cold, so it is no surprise that what flows through the waterway in the Ureira Shopping Street is no exception.
The water spot in the Ureira Shopping Street is referred to by the word-play, "Hakkoi-mizu (first love water) and Hyakkoi-mizu (100 love water)".
This refers to it being a love spot for those seeking not only their first love, but those also wanting many more loves later!
The water spot here, approx. 5 min. by car from Ryusendo Cave, is also designated as a Lover`s Sanctuary.
TOP