News of 2018-2019 winter season plan
[news of Ryusen-do Cave winter season plan]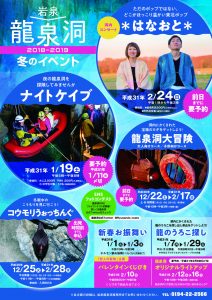 We hold winter-limited event this year in Ryusen-do Cave!
We have course for adults and course for children for quite popular "Ryusen-do Cave size adventure". * from Iwate lets tone that * is still wonderful sound in "intracavernous concert" to hold in intracavernous "Tsukimiya" this year. Do you not make memory of winter vacation in big event "knight cave?" There is the first plan in addition to annual plan, too! "Search for scale of dragon" is slight treasure hunt for less than junior high student. We decipher code, and let's find "scale of dragon"! There is premium for participant, too!
As sacred place for lovers plan only as for the hit! "Ryusen-do Cave original light up" to be able to make "Valentine cavel" and the sinus into favorite light up is held. How about couples?
As pioneer of event, we perform illuminations in winter in Lake intracavernous first bottom of the earth from Saturday, December 1.
You increase in usual times, and please enjoy Ryusen-do Cave of fantastic atmosphere.
As information of each others plan tells even about Facebook and Twitter of Ryusen-do Cave formula SNS at any time, please see.